Collaboration with the City of Chicago and the State of Illinois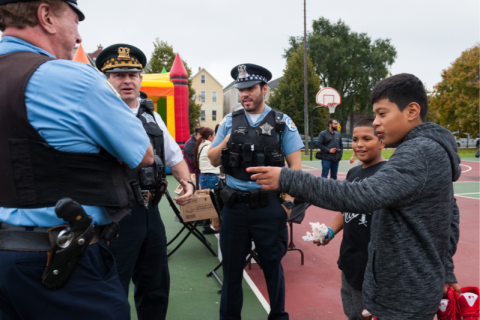 On June 21, 2021, President Toni Preckwinkle sent a letter to Governor J.B. Pritzker and Mayor Lori Lightfoot asking for their partnership in aligning and coordinating the historic investments of more than $10 billion of federal relief across Illinois that was signed into law by President Biden on March 11, 2020. Together, all three government entities committed to reduce duplication and maximize the impact of all federal funds.
All three units of government committed to the collaborative and identified executive level staff charged with the strategic planning and implementation of ARPA investments to participate.
Shared priorities of interest across the collaborative include Violence Prevention, Mental Health, Infrastructure and Economic Development. A Violence Prevention sub-group was formed, with the expectation that additional sub-groups would be created as needed to advance the overall work.
Since August 2021, the Violence Prevention sub-group has held planning workshops and meetings to coordinate investment efforts to reduce violence in Cook County leveraging the significant American Rescue Plan federal relief fund
For more information and to learn more about how the collaboration is working with community partners, visit greaterchicagotogether.org/grants or view the Conversations: Creating Safe & Thriving Communities Presentation.
Violence Prevention Strategies
Cook County is committed to reducing our justice-involved population while also making significant investments to improve public safety. We will accomplish this by simultaneously focusing on violence prevention and reduction to ensure that all Cook County residents have a safe place to live. Here are a few examples of our plans to ensure our communities are safe and thriving:
 
Gun Crimes Strategies Unit
The Gun Crimes Strategies Unit (GCSU) embeds Assistant State's Attorneys in six of Chicago's most violent police districts. This will allow the Cook County State's Attorney's Office to expand the reach and efforts of the GCSU to help combat the rise in violence and shootings within the City and the South Suburbs.
Programs and Services for Domestic Violence Survivors
Levels of domestic violence have risen during the pandemic. We will support survivors of domestic abuse through grants to providers that serve them. These grants will fund legal resources, mental health resources and rapid housing resources.
Strengthening Chicago's Youth Juvenile Justice Collaborative
We will continue to reduce violence and minimize justice involvement of youth who have experienced violence or trauma or are at high risk of exposure to violence. Services include trauma-informed care coordination for 500 justice-involved youth per year over three years, including youth on diversion (arrested for a felony or violent misdemeanor) or youth granted deferred prosecution. Services include intake, assessment, connection to evidence-based programming and pro-social services, emergency assistance, family support services and post-discharge monitoring.
Gun Violence Prevention and Reduction Grants
We will respond to high levels of gun violence with thoughtful and robust investment. In 2022, the Cook County Justice Advisory Council awarded $85 million in grants for programs designed to prevent and reduce gun violence in Chicago and Suburban Cook County. This grant program has been designed to be inclusive of large and small programs and organizations and will fund a variety of violence prevention strategies including mental health and employment services, street outreach and case management as well as other programs which support residents at-risk of being involved in community violence. For more information on our grants, please visit greaterchicagotogether.org/grants.
These examples are just a handful of how we intend to support our communities and residents this year. For more information on initiatives backed by American Rescue Plan Act funding or for the entire plan details, review our ARPA-At-a-Glance Report or download the one-pager here.